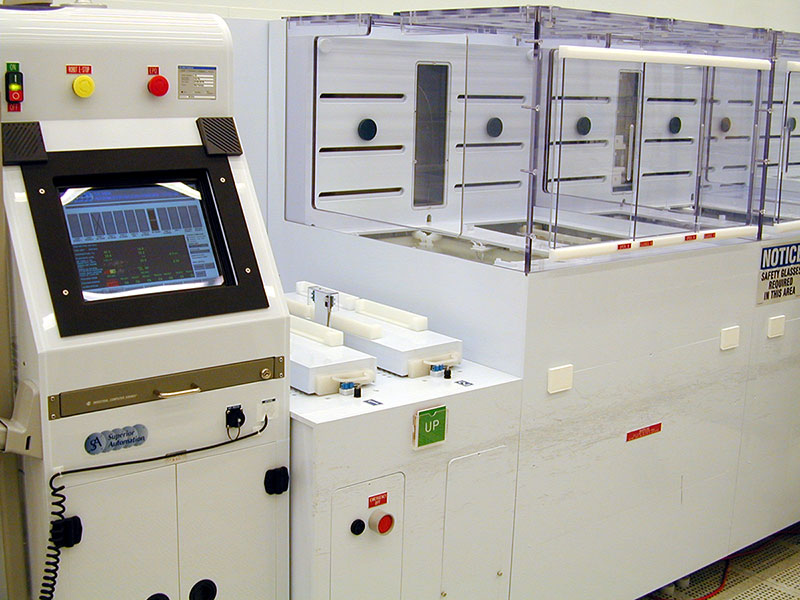 Superior Automation specializes in upgrading and retrofitting existing Wet Process Equipment. We can upgrade or completely retrofit any system on the market today. Providing a complete line of wet process products and services for manual, semi or fully automated systems, we can meet any of your support requirements. From Controls and Robotics to Process modules and peripherals, we handle it all.
We have off-the-shelf PC and PLC based control packages with modularized process software customizable for any Wet Process application. The SA 5000 for example, is a state of the art PC/PLC hybrid control package for Fully Automated Systems. Built on an open architecture platform, this system is configurable for any process, and will meet or exceed the capabilities of any package on the market today.
Additionally, we have drop-in Transfer Systems for upgrades or replacement requirements. In determining the solution that will best suit your requirements, we will utilize as much of the existing equipment as is possible, offering the options that will give you the best value and technology.Beyond supporting our retrofit installations, we can take complete ownership of your tool, providing you with a single source for all your needs. And, along with retaining value from your existing equipment, you can be assured that you are acquiring leading edge technology that will extend the life of your systems long into the new millennium.
Rerofit Benefits
Save 60 to 80% over the price of new Equipment.
Gain State of the Art Technology
Avoid High Facilitating Costs
Lower Impact on Fab Production
Equal or shorter Lead Time compared to new purchase
Acquire NEW Warranty and Support
Add flexibility and future upgradability to your existing tool
Complete Wet Process Retrofit Solutions
Control Systems Modifications or Replacement
Process Bath and plumbing modifications or replacements
Robotic Systems replacement and enhancements
Peripheral Additions or Modifications
Additional Retrofit and Upgrade Capabilities Include:
Data Collection and Information Management
User Interface Upgrades
Barcode/RF ID Interfaces
PC/PLC Systems replacement
GEM/SECSII/SQL Interface
Statistical Process Control
Remote Monitoring Systems
Custom Peripheral Interfaces
Customer:
Sumitomo Sitix Silicon Corp.
Project:
Wetbench Retrofit
Scope:
Hardware, Software, Control System, GUI Design, Process Enhancments